1. Choose Your Role
A high level of User rights and permission system is fully implemented into SkyPOS. Just choose your role while entering into SkyPOS and your permitted modules appear on your screen. User rights and permissions can be configured by Admin at any moment of time very easily.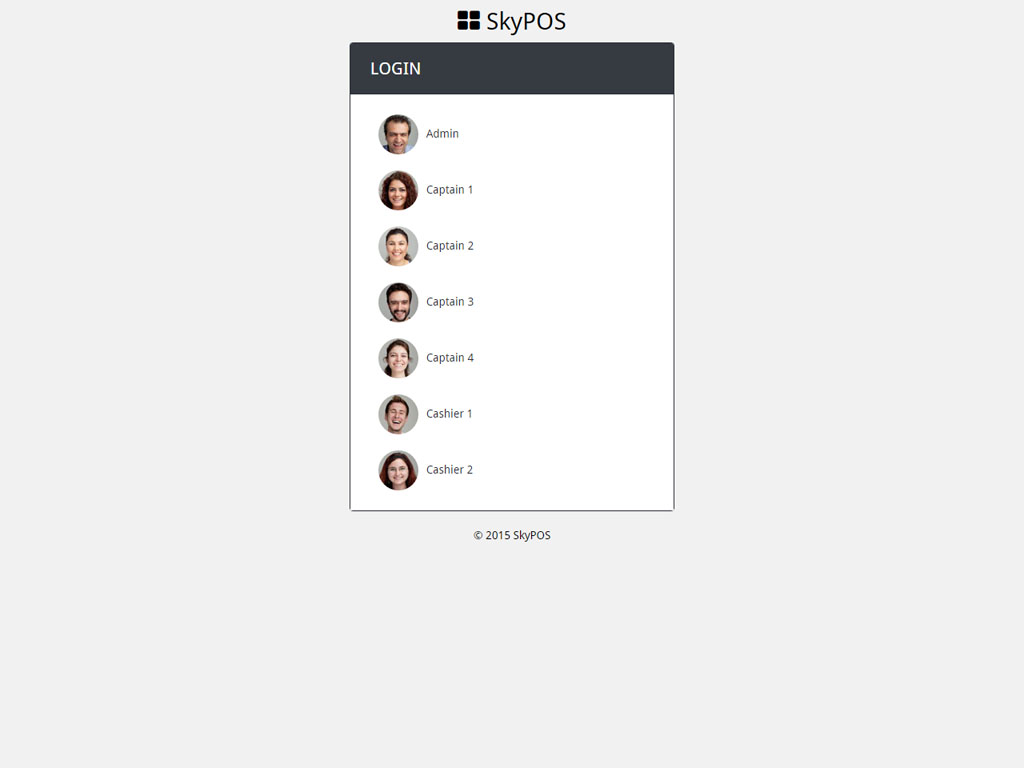 2. Login Screen
Just fill in your password into SkyPOS and you are ready to go.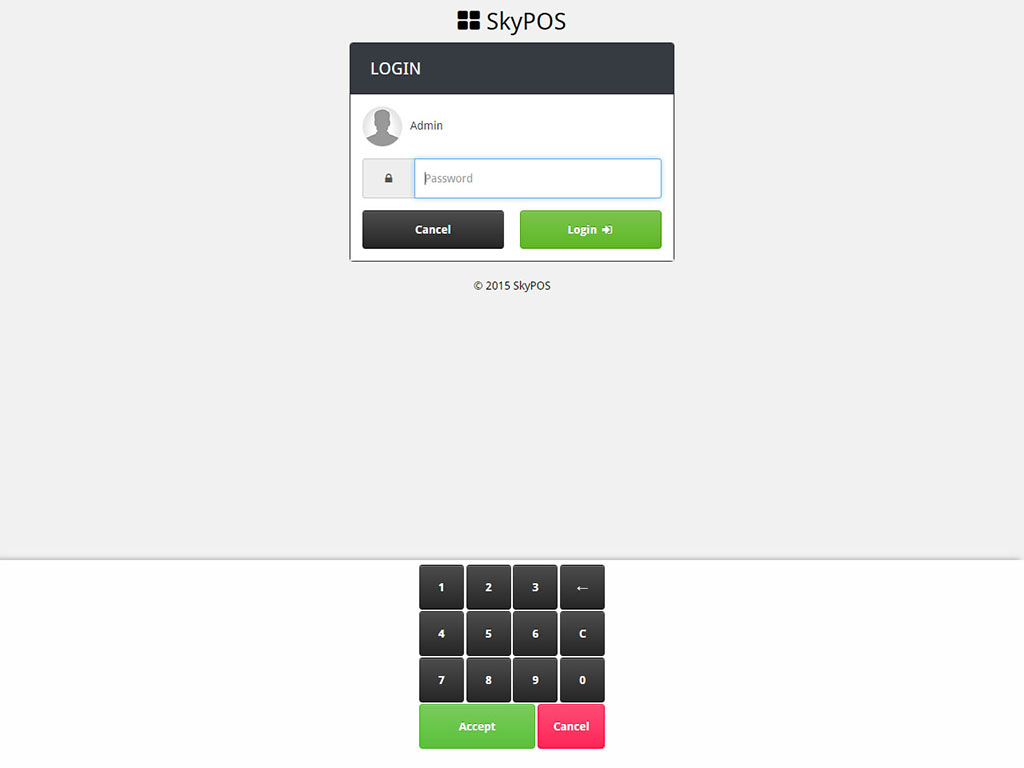 3. Section Operations Screen
Select the operations, you want to get into and SkyPOS will present you with the available modules. User will see only the modules, he is permitted to use, in this screen.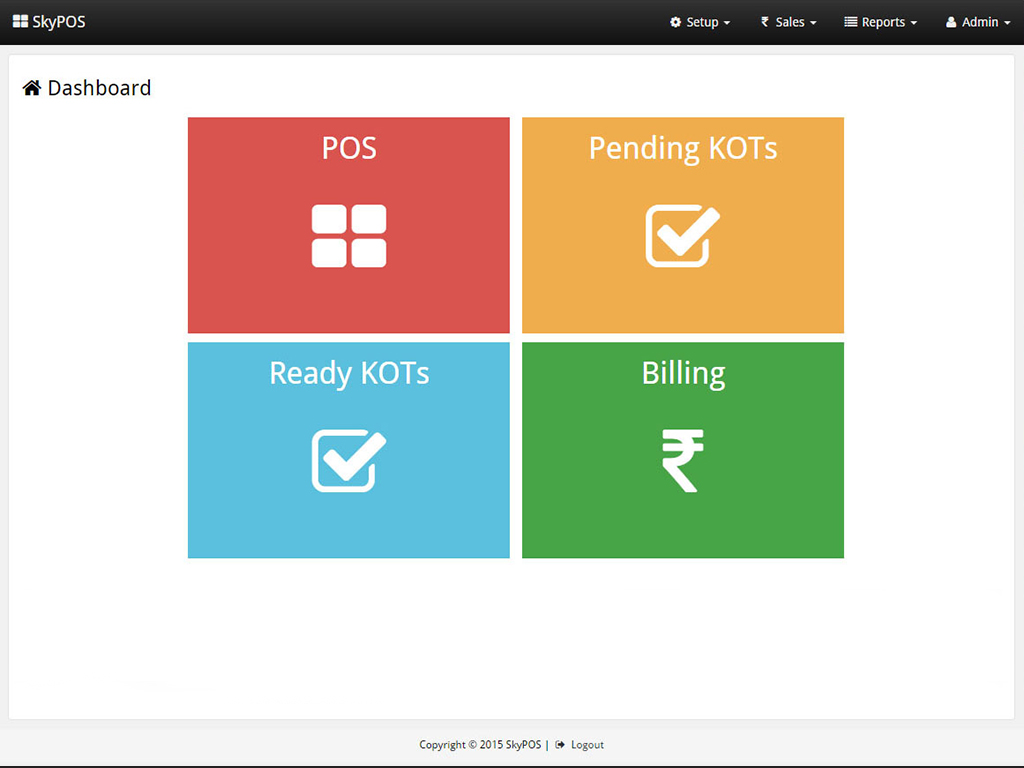 4. Select Section Screen
User will be presented the section of restaurant he wants to get into. In case the restaurant has only one common section, this screen will not appear.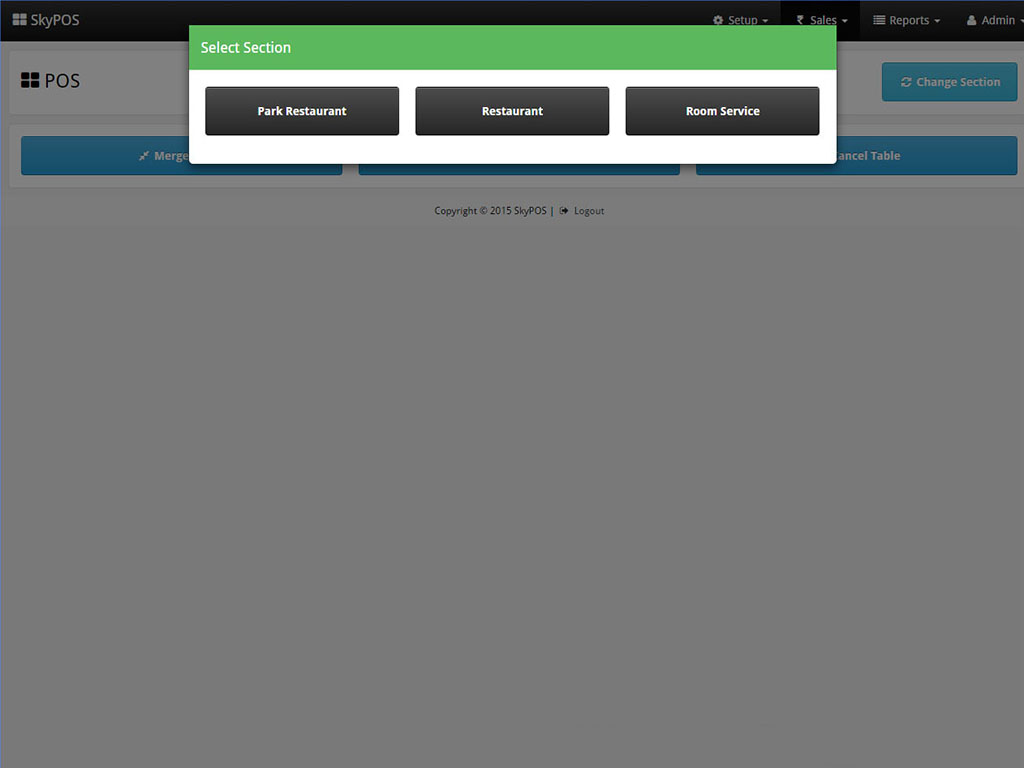 5. Tables Grid
In POS section, user will be presented with the list of tables available in that section. User just needs to click on the table and he will be presented with the order feeding screen. In tables grid Black tables are empty tables, Green tables are tables which have ordered some food but have not been billed, Red tables are those whose bill has been generated but payment receiving is pending.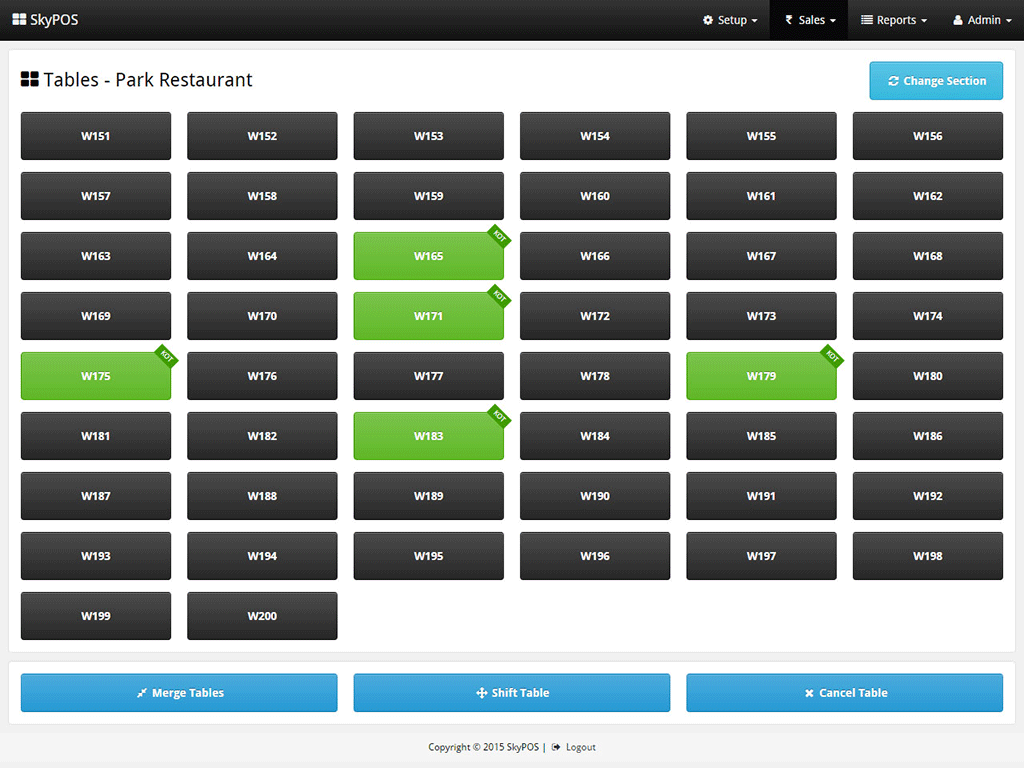 6. Order Feeding Screen
Using his tablet or any other device, captain will click on the table number and will be presented with a order feeding screen along with the list of items arranged categorically. Veg and Non-veg items will be highlighted separately. The price of each item is also mentioned. Captain can also click on a particular item multiple times to increase its quantity to be billed, making it easier to take a bigger order.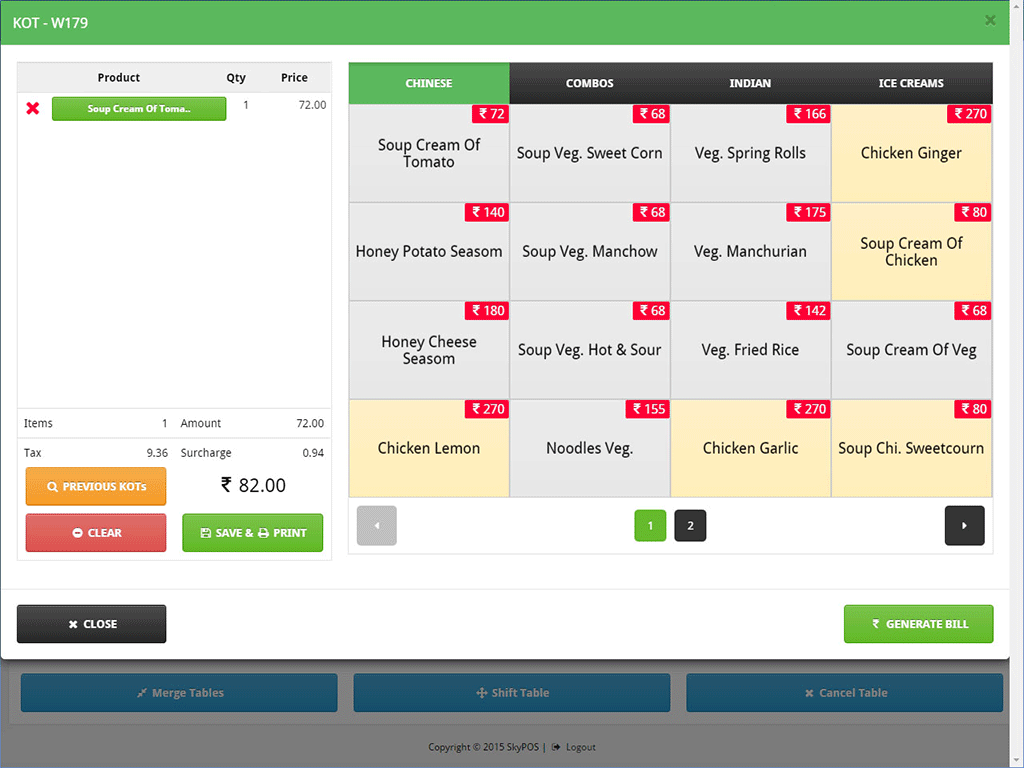 7. KOT Pending Screen
SkyPOS's KOT pending screen presents Kitchen Manager with the autorefresh list of pending KOTs to be prepared by chefs. Once a particular KOT's food is ready, Kitchen Manager clicks on that particular KOT and clears it from the list making his job easier and free of stress.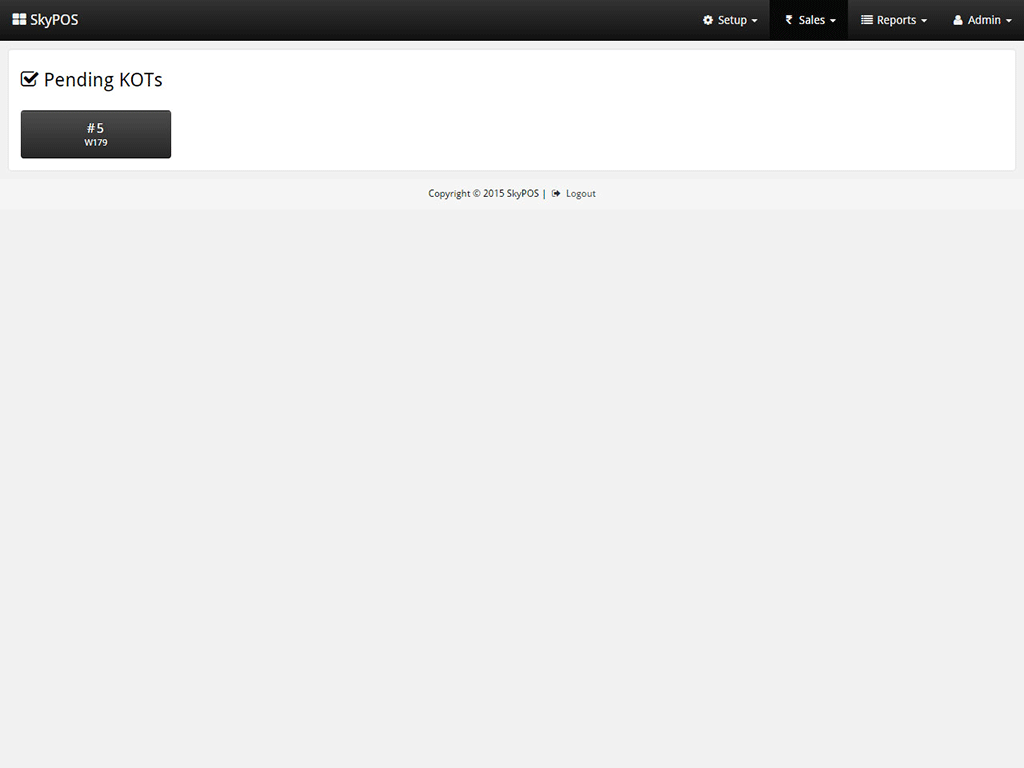 8. Billing Screen
The autorefresh billing screen is used by cashier to know how many bills are pending for payment. Once a Captain generates the bill of any table from his tablet or any other device, that bill automatically appears on cashier's screen. Once cashier receives the payment he just needs to click on the bill and clear it.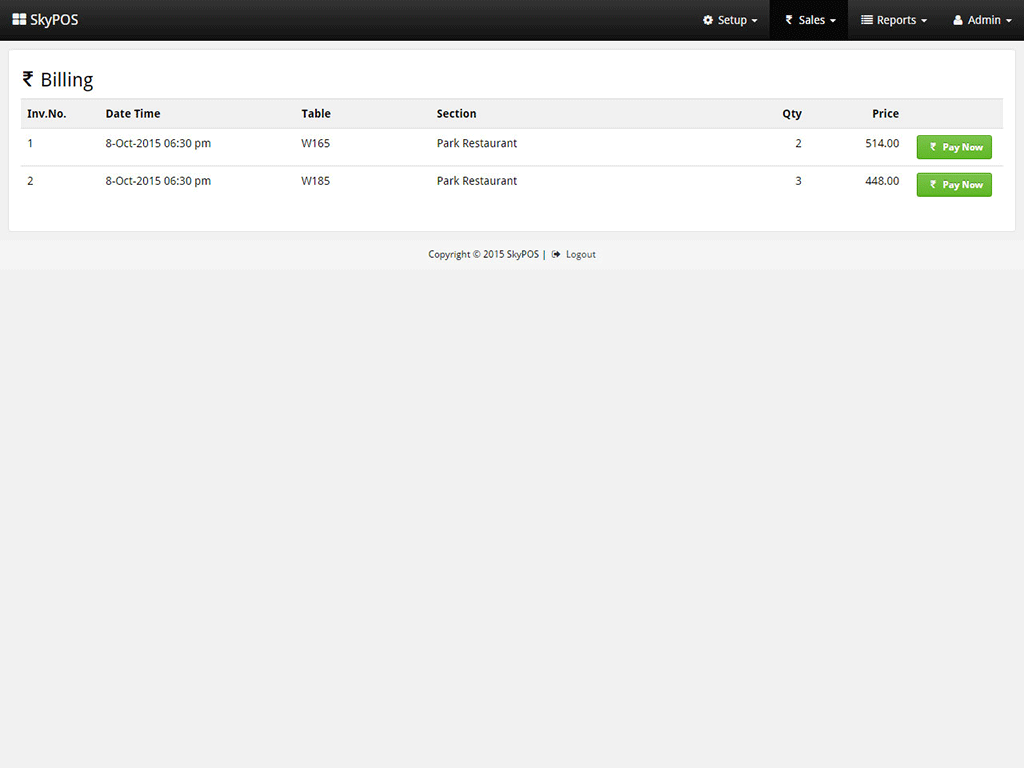 9. Payment Screen
Once the cashier clicks on a particular bill, SkyPOS presents the payment screen. Here SkyPOS computes the possible amounts which a customer can submit. Cashier just needs to click on the amount received and SkyPOS automatically calculates the amount to be returned.